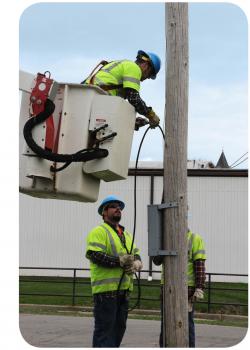 Firelands Electric is a member-owned electric cooperative. Anyone requesting electric service must have a signed membership application, with a required security deposit, returned to the cooperative office before service can be connected.
Click here to access Member Forms. 
These documents can be filled in and printed from your computer using Adobe Acrobat Reader.
NEW ELECTRIC SERVICE PROCEDURES
1. Contact the Operations department at Firelands Electric by calling 1-800-533-8658 or by clicking here to schedule an appointment to meet with a cooperative representative at the building site once the driveway entrance is installed.
2. Have the address and location of new service available, along with type of service requested — temporary or permanent (200, 300, or 400 Amp)
3. Member must perform site preparation to comply with Firelands' New Service Procedures. Scheduling an appointment to meet a Firelands' representative at the site typically takes five to ten business days. Firelands Electric Cooperative will make every effort to install your service to exceed your expectations. We are a not-for-profit company dedicated to giving you the best service for the most reasonable cost, and we will work through any problems as quickly as possible to provide you with the service you deserve.