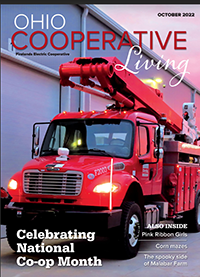 Each month, members of Firelands Electric Cooperative receive a copy of Ohio Cooperative Living magazine in their mailbox. This magazine is used to communicate the latest news and information affecting electric cooperatives on the local, state, and national level. The main section of the magazine is produced by our statewide organization, Ohio's Electric Cooperatives, while the center pages are devoted exclusively to Firelands Electric news.
 
Click on the links below to view past issues of Ohio Cooperative Living magazine.
Members can also visit www.ohiocoopliving.com to read statewide articles. 
PDF Versions (local pages only)
New Digital Version (entire issue)