2023 TRUSTEE ELECTION RESULTS
DISTRICT 1:
Dan Schloemer - 313 votes
DISTRICT 3:
Tom Lucha - 301 votes
DISTRICT 6:
Kevin Reidy - 206 votes
Samuel Ahrens - 180 votes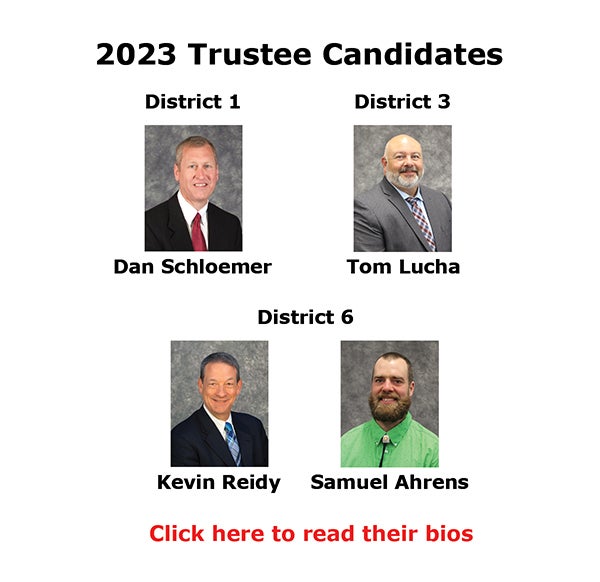 2023 TRUSTEE ELECTIONS
In 2023, Firelands Electric's members will elect trustees to represent districts 1, 3, and 6 on the cooperative's board. 
All members may cast their ballot in the trustee elections, and voting will take place online and by mail from May 1 through June 18. Voting materials and candidate bios were mailed to members the last week of April. Election results will be announced at the Annual Meeting of Members at Ashland University on June 24, as well as in Ohio Cooperative Living magazine.
WHAT IS EXPECTED OF A FIRELANDS ELECTRIC TRUSTEE?
The Firelands Electric Cooperative Board of Trustees meets monthly to review the financial and operational data of your electric cooperative. Board members hear and discuss reports from the cooperative's general manager and department supervisors, as well as provide guidance for management decisions.
The duties of a Firelands Electric trustee include:
Attend all regular meetings on the 4th Tuesday of each month, the cooperative's annual meeting in June, as well as other state, regional, and national meetings and training sessions.
Determine the cooperative's rate schedules and fees.
Approve major work plans for ongoing maintenance and improvement of the cooperative's distribution system.
Approve contracts for financing, services, and power supply.
Monitor the financial condition of the cooperative and make decisions on budgets and capital credits.
Representing your fellow members as a Firelands Electric trustee is an important job. Trustees must be dedicated and committed to the cooperative and its principles. They must strive to do what is best for the cooperative and all of its members, which may conflict with the desires of individual members or special-interest groups. Additional information is available at the links below or by calling our office at 1-800-533-8658.
The documents provided below can be accessed and printed by using Adobe Acrobat Reader (link is external). 
2023 Board Nomination Petition Information [PDF] (Nominations are now closed)
2022 Annual Report [PDF]