Electric Meters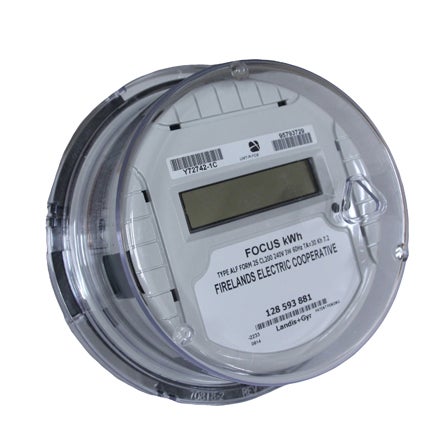 Firelands Electric Cooperative started upgrading its electric system with an advanced metering infrastructure (AMI) in December 2014, which was vital to meeting members' growing electrical needs. The new Two-Way Automatic Communications System (TWACS) improves the accuracy and performance of the cooperative's metering system with helpful real-time data. It uses the same power line carrier technology that Firelands Electric has been using since 1999,which transmits all meter data through power lines, not by radio waves.​
The upgraded infrastructure will be more efficient and help control future costs by allowing a variety of advanced applications to become possible, including outage management and "blink" monitoring. This system upgrade will play a major role in keeping reliable power flowing to your home.
When a meter is scheduled to be updated, members receive a notification card in the mail. Firelands' meter technicians will also leave a door hanger to let you know when they have changed the meter. Installation of the new TWACS system involves removal of the old meter, and members will experience a short interruption of their electric service as the meter is replaced. The co-op apologizes for any inconvenience and encourages members with sensitive electronic equipment and computers to shut off their devices when not being used and have some type of surge protection or battery backup in place.
Have questions?
For more information visit the links below, or contact our office at 1-800-533-8658 or by clicking here.
Cooperative ​Privacy & Confidentiality Policy
Electric Power Research Institute Radio Frequency Exposure of Meters Study
Radio Frequency Exposure Examples